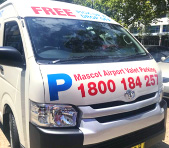 FREE SHUTTLE TO & FROM THE AIRPORT
Quick Quote

GET PRICE
Quick Quote
Parking:

---

Total:
* Price includes GST & airport transfers
Mascot Airport Valet Parking
Entrance to
Domestic Airport
What do people say about Mascot Airport Valet Parking?
These guys were FANTASTIC - first time user this last weekend (end Nov 20) and I am definitely using them again and have told all my friends about them. HIGHLY RECOMMEND and will be using again. They get a MILLION bonus points for that on a 42 degree day in Sydney. Super grateful and they get the little details - recommend to anyone.
I parked my car there for 2 days, I was VERY impressed with your service - AND you even washed the car for me (didn't expect that!) - great service with shuttle service to & from the airport and all at a reasonable price. Thank you so much - I will use you again and tell all my friends to do the same. Thanks again 🙂
Hi, just wanted to say thank you for your awesome service, it made the whole getting to and from the airport so much easier, and also the little things like having the bus door opened and our bags put in our boot, and even our car lights on, engine running and ready to go. I would highly recommend this service and great prices to any of our family and friends. Thank you
We recently used your valet service for the first time. This email is to let you know how pleased we are to have discovered you. The service was efficient, stress less and good value. the staff courteous. Thank you.
Entrust your pets safety, comfort & happiness to Guard Dog Training Centre Pty Ltd.
Luxury Dog Boarding Kennel in Sydney
Call 1300 309 409