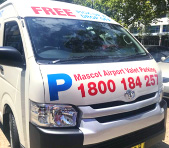 FREE SHUTTLE TO & FROM THE AIRPORT
Quick Quote

Undercover secure parking

Outdoor secure parking

GET PRICE
Quick Quote
Parking:

---

Total:
* Price includes GST & airport transfers
To help stop the spread of COVID 19, we have made some temporary changes
A Mascot Valet Parking, the health and safety of our customers, staff and communities is a core priority – even more so with the uncertainty around the rapidly changing COVID-19 health crisis.
As at this current time, Mascot Valet Parking will continue providing parking services however we have implemented some changes to support the health and well-being of our staff and customers.
We are committed to maintaining high levels of cleanliness and hygiene and will be enforcing additional measures and procedures in our day-to-day operations in a best effort to reduce any risk of the spread of COVID-19 virus.
This includes the following procedures:
Please allow additional time so we can get you to your flight on time., As there is now a restriction to the amount of people that we allow on the shuttles (excluding families travelling together)
Asking customers to handle their luggage on and off the shuttle buses. Help will be available to those that require it.
Walk to and from the domestic terminal if you do not have a large amount of luggage.
Cleaning and sanitising of our shuttle buses after every trip to the airport terminals.
All vehicles surfaces (seats and steering wheels) will be disinfected with a COVID 19 approved sanitising agent spray upon their return.
Ensuring all team members adhere to guidelines of self-isolation when returning from overseas travel.
Minimising person-to-person contact where possible with personal protection equipment
Ensuring staff stay at home if feeling unwell
We respectively request that our customers follow the guidelines provided by the Australian Government and seek advice from a professional medical practitioner if they feel unwell.
Mascot Airport Valet Parking
Entrance to
Domestic Airport
What do people say about Mascot Airport Valet Parking?
I parked my car there for 2 days, I was VERY impressed with your service - AND you even washed the car for me (didn't expect that!) - great service with shuttle service to & from the airport and all at a reasonable price. Thank you so much - I will use you again and tell all my friends to do the same. Thanks again 🙂
Hi, just wanted to say thank you for your awesome service, it made the whole getting to and from the airport so much easier, and also the little things like having the bus door opened and our bags put in our boot, and even our car lights on, engine running and ready to go. I would highly recommend this service and great prices to any of our family and friends. Thank you
We recently used your valet service for the first time. This email is to let you know how pleased we are to have discovered you. The service was efficient, stress less and good value. the staff courteous. Thank you.