Short Term Parking – Sydney Airport
At Mascot Valet Airport Parking, we have both short-term and long-term parking solutions.
Here are a few of the benefits of using our Valet Parking service.
Private Parking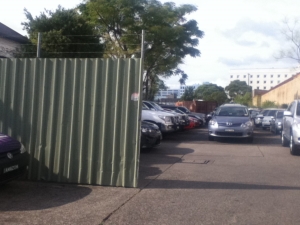 The outdoor parking area is hidden from the public, behind these steel gates.
At night, no-one can see in.
The lot is surrounded on the right-side by our building (a 2-storey high wall) and on the left by a house.
These gates are the only way in or out.
Safe Parking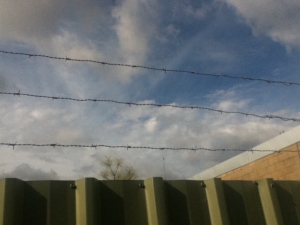 The three sides that don't have a 2-storey brick wall as a fence, all have a barbed-wire fence.
Fair enough, a professional or organized thief only needs some pliers to bypass this security measure, but at least this keeps the "steal a car to get home" types out.
The average passer-by and weekend-binge-drinkers-walking-home will also look for an easier target when they see this skin-piercing, clothes-tearing defence-system.
Still not convinced?
What if someone does get over the barbed-wire fence?
Secure Parking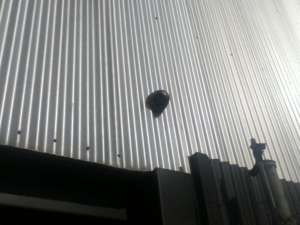 Security cameras.
Yes, mounted up there on the wall are two surveillance cameras, recording all movements during the night.
Even cats are scared to venture into our parking area! (O.K., so it's probably the barbed wired that keeps them out)
These cameras are linked to our computer system inside the cafe, so even when we are here we are watching the parking area and can respond to any event.
We also have staff out in that area during the day, so your vehicle is more than adequately protected.
Mascot Airport Valet Parking: Convenient Short Term Airport Parking
Are you looking for the best option for short term airport parking at Mascot Airport? Whether you are breaking away for a short holiday or on a business trip, the question of where to leave your car while you are gone will come up at some point. Parking at the airport itself is out of the question unless money is no object.
There are several factors to consider when looking for the best option for short term parking at Sydney Airport. Price, ultimately, is the main issue to consider, followed closely by convenience. Now you can have the best of both worlds. We offer the ultimate comfort at a highly competitive price.
What You Should Know About Mascot Airport Valet Parking Regarding Overnight Airport Parking
Planning a trip can be a daunting task. Inevitably, the most stressful part of any trip is travelling to the airport, finding parking, and arriving at the terminal on time with all your luggage – and travel companions – intact. We've ensured that finding safe and secure, convenient parking, and a quick and easy valet trip to the terminal is sorted out.
We are the closest Sydney Airport short-term parking service provider to the airport. In fact, we're situated just 250 metres from the main entrance to the Sydney airport, a quick drive that takes only a few minutes. You won't find anything more convenient than that.
Our shuttle vehicles are spacious and can easily fit your whole entourage. Even if you show up with everyone crammed into two cars, the chances are that just one of our vehicles will be enough to fit everyone and their luggage comfortably.
Getting back to your car after your trip need not be a cause for concern. Upon your return to the airport, we are just a phone call away. Give us a call, and we'll immediately collect you and deliver you safely back to your car.
What Sets Mascot Airport Valet Parking Apart Regarding Overnight Parking at Sydney Airport
Many short-term parking providers at airports worldwide are owned and operated by large companies who only care about their profits and give little regard to quality personal customer service. We are a privately held company, and the people you deal with are the ones who own the company. We take pride in providing a top-quality, personalised service that our customers enjoy using.
We offer various parking options, including outdoor parking and under roof parking, with a free shuttle service to and from the airport upon your departure and return. You can rest assured that your vehicle is safe and secure for the duration of your trip, with around-the-clock security.
Would you like to return to a spotless car when you come home from a holiday or business trip? No problem. We offer a professional car detailing service, manned by an experienced and knowledgeable team of car detailers. Whether you require just a wash or a professional detailing service, we have the ideal solution for you.
One would think that offering the closest short-term parking in proximity to the airport would cost you a bundle, right? Wrong. Our prices are incredibly competitive. So competitive that we endeavour to beat a quote from any of the other short term parking operators around the airport.
About Mascot Airport Valet Parking
We offer the best short term parking service at Sydney Airport, bar none. We offer a variety of options, including a free airport shuttle, a meet and greet option, under roof parking, and a sparkling clean car upon your return, thanks to our Diamond Finish carwash service.
We are committed to providing the best service to our customers by offering meet and greet service as your convenient option. To simplify your arrival, we can drop you off directly from the departure terminal or pick you up at the arrival terminal, and we will get you on your way swiftly.
Contact us today for more information.